Holidays in the Bavarian Forest
Active holidays in Bavaria - a fountain of youth and life in any season
Embedded between the Osser and Arber mountains, our little hotel with holiday house is located in the health resort Lam in the middle of wonderful mountain forests. The sunny and protected location makes Lam a holiday paradise in the Bavarian forest for hikers and those looking for relaxation.
Magically beautiful hiking paths for hikes and Nordic Walking tours start right by the building.
Adventurous mountain-bike tours through the Lamer Winkel are particularly recommended. A playground for children is located in the spa garden behind the house.
---
How about an adventure hike with subsequent meal or a night hike with witches' fire and stick bread? Get a closer look at the wonderful landscape in a romantic coach ride.
Many excursion targets, such as the Silberberg, the Großer Arber, the National Park Bavarian Forest, the wood whittler and glass artisan workshops are in direct proximity. The cultural cities of Passau, Straubing, Regensburg and Munich invite to memorable day trips. In the adjacent Czech Republic, there are the spas of Marienbad, Karlsbad, Franzenbad and the town of Krummau (Unesco cultural heritage) among the special sights.
---
---
Be comfortable from the first moment. We want you to feel at home here. We will gladly help you plan your holiday.
Our advice: Every Tuesday, we invite to a welcome day with plenty of advice around your holiday in our 3-star hotel in the Bavarian Forest.
---
Discover the Bavarian Forest by bike or mountain bike!
There are several well-marked bicycle and mountain bike routes around Lam in the Bavarian Forest. They range from less exhausting bicycle tours around the holiday community of Lam to exhausting mountain bike tours of several hours.
The region between the Arber and Brotjacklriegl, Hirschenstein and Dreisessel is a challenge to athletic bicycle hikers. The right transmission helps cover the climbs, which are sometimes considerable.
If you have not brought along your own mountain bike for your holiday in Lam, you may use our bicycles for rent in town.
Enjoy pure sports and fun - and the white beer and hearty snack to follow will be even tastier!
The Rösslwirt's special offer for cyclists
Accommodation even for a short term of 1 night • parking places for your bicycle, also lockable • drying possibility for equipment and clothing • the most important tools for small repairs • vitamin- and carbohydrate-rich breakfast • on request lunch package for your bicycle tour • information about bicycle workshops and tours • comprehensive information material
Bicycle routes starting from the building or nearby:
Lamer Winkel bicycle path • Grünes Dach bicycle path • Zellertal sculptures bicycle path • National park bicycle path or round trip • Regental bicycle path • bicycle path Munich Prague
---
Motorcyclists are welcome here!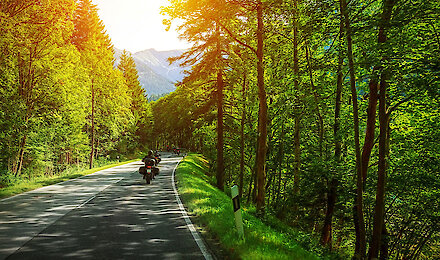 Alone, as a couple or with friends - no matter if you want to spend a night, an extended weekend or a longer stay with your bike.
We offer the right accommodation for you and your motorbike.
There are enough sheltered parking places. We also offer provisions to take on tour.
We will gladly make offers for your motorbike tour through the Bavarian Forest and the Bohemian Forest.
---
We offer a return service if necessary to get you back to your quarters or to the closest workshop. We offer tools for smaller repairs that you can perform yourself.
The Rösslwirt's special offer for motorcyclists
Parking places for your motorcycle • visor cleaning cloths • changing and drying room for your motorcycle clothing • lubricants and cleaning materials • the most important tools for smaller repairs• washing and maintenance options in direct proximity • comprehensive information material • tour suggestions at the reception desk • accommodation even short term and for one night • on request: lunch packets for your tour • good motorcycle workshop about 15 km away
---
Fun for the entire family ... in the hotel in Lam
Plenty of free-time opportunities and excursion advice for families and children guarantee for a memorable family holiday in the Bavarian Forest - exciting and full of experiences!
---
---
We offer:
Lots of games and books in our common room with Sat-TV • excursions with travel agency Wenzel can be booked in-house. Departure in front of the entrance door • Children's playground behind the house in the spa gardens of Lam • Various glass factories, family entertainment park in Loiffling, toboggan run, Wild-West park Pullman City, bathing lakes and many others!
---
Golf holidays in harmony with nature
14 golf clubs and 15 golf courts in the Bavarian Forest region invite you to a border-crossing golf holiday in the Bavarian Forest. There are very good golf schools for beginners or for golfers who want to improve as well.
There is a true golfer paradise in the holiday region Bavarian Forest. Golf is not only a sport for golf members, but a free-time occupation with a high entertainment factor for everyone. Therefore, our holiday guest can enjoy golf in the Bavarian Forest.
We will gladly help you find the right golf court for you with exclusive green fee reduction for our guests!
Please talk to us about this when booking.
---
Winter holidays in Bavaria
Family-friendly, cost-efficient, certain snow, crystal clear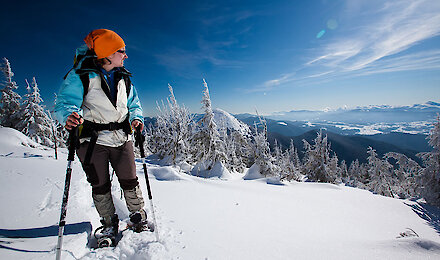 Enjoy your winter holiday in the Bavarian Forest region and be enchanted by the beauties of the wonderful winter landscape!
The skiing enthusiast, winter hiker and silent watcher will all be delighted by their winter holidays at the Rösslwirt.
The Hoher Bogen and Arber are a veritable paradise for skiers and snowboarders with their many different downhill slopes. The gondola will take you to the summit quickly.
---
A snowboard fun-park has been set up specifically for the snowboarding pros, who can stand out with their acrobatic snowboard skills there. Skiing schools in town offer special courses to children in which the little ones will be playfully introduced to the basics of skiing.
Hot on Ice
A wonderful enjoyment for young and old: Winter hiking, sledding, cross-country ski tours, snow shoe hiking or just ambling along and then back to the cosy sitting room.
Roasted apples, Kaiserschmarrn, punch or mulled wine will boost your strength. Our little guests will of course warm up with a particularly tasty children's punch.
---
---
Cross-country skiing tracks
from the holiday house/cross-country skiing centre Scheiben, or easily accessible by skiing bus
Ski lifts
9 km, 12 km, and 25 km away, and can also be reached with the skiing bus
Winter toboggan run
Approx. 500 m if the snow situation is right, or 12 km away at the Hoher Bogen, Großer Arber and Silberberg
Horse-drawn sledge or coach ride • torch hike to the wood mill • game feeding • guided snow shoe tours and winter hikes
Especially in the winter months, the Bavarian Forest will show its most beautiful side! Here in and around Lam, you will find cleared winter hiking paths of all lengths.
The Arber also offers a diverse network of paths.
The National Park also offers the prerequisites for light winter hikes. Inhale the fresh countryside air and enjoy your winter holiday in a fairy-tale-like environment.
Look forward to a restorative winter holiday in Lam in the Bavarian Forest.
---