Generous breakfast buffet
Start your holiday day after a restorative night…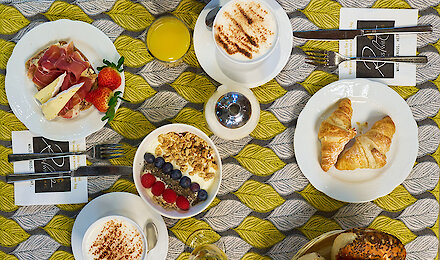 Time to sleep in and have a comfortable breakfast.
Without any hectic or a quick breakfast, but in our tastefully furnished restaurant, at the rich breakfast buffet.
Sweet or hearty, coffee or tea: breakfast just as you like and wish it.
Fuel up just as you wish.
Fuel up on power for a beautiful, memorable holiday day in the hotel and holiday house Rösslwirt in the Bavarian Forest.
---
Our breakfast buffet offers quality and diversity.
Freshly ground and brewed bean coffee, a selection of teas by Teekanne, fresh fruit juices, crispy bread rolls and hearty farmers' bread, wholemeal and vital corner, cooked eggs. Jam and honey, partially home-made. Sausage from our own butcher and good Goldsteig cheese.
Isn't it just great to enjoy the last cup of coffee of the breakfast with the newspaper or planning the holiday day?
That's what a true holiday is like!
A tasty start into a pleasant holiday day - this is what we from the Rösslwirt 3 star hotel in the Bavarian forest with hotel in Lam wish you.
---