Hotel Rösslwirt in Bavaria
Welcome to the Hotel-Gasthof Rösslwirt in Lam / Bavarian Forest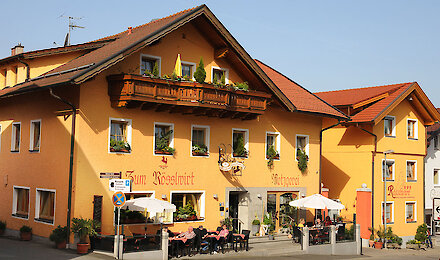 "We want to be a hotel in which you don't just stay because you're travelling, but where you travel to stay and live there."
That is our motto - the Rösslwirt is your number 1 wellness address in the Bavarian Forest!
Look forward to quiet and restorative holidays and enjoy the clear fresh air of the Bavarian nature.
Let us treat you to an all-round luxury experience and be inspired by the special atmosphere of the more than 100 years old Rösslwirt tradition.
---
Gourmets will find what they love here as well - in the morning, they will be welcomed by a lovingly prepared breakfast; coffee and cake or a hearty snack is served in the afternoon. In the evening, we offer home-made treats and seasonal dishes.
Comfortable rooms in a cosy atmosphere guarantee for good dreams and a restorative sleep. Experience a memorably, wonderful holiday in the Bavarian Forest - we are looking forward to meeting you!
---